Curtains play a key role in beautifying your home interior. Whether you've a traditionally-designed home or a modern condo, these lovely pieces of furnishings transform a simple home elegantly. Besides being decorative, curtains offer many functional benefits. They allow you to obstruct or let sunlight within your home. Plus, you may enjoy the much-sought privacy by covering windows with curtains. This is why most homeowners love to have this decorative and functional furnishing. However, the main problem lies in hanging curtains. You need steel curtain rods that can stand the test of time and serve you better.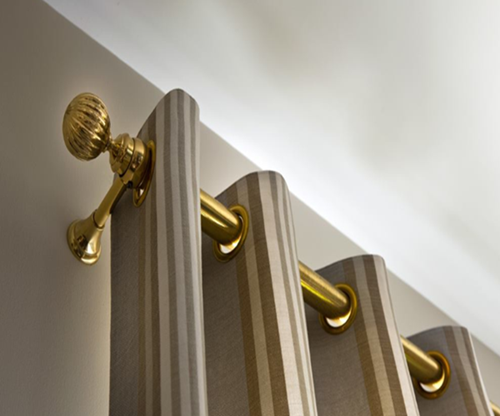 How to buy a standard curtain rod?
When it boils down to choosing curtain rods, most homeowners don't do any homework. They just rush to the nearest store and pick a rod they think fit. Sadly, most of these buyers end up making the wrong choice. In some cases, the chosen rods wear out quickly. Some buyers shell out too much on an inferior-quality rod. The zeal to pick a curtain rod in haste quickly turns out to be waste. You may avoid any such situation and still bag quality steel curtain rods by following these handy tips.
Measure the windows
Nobody likes to buy a rod that looks out of the world. Yet, people commit mistakes when shopping around. As a smart homeowner, you'd want to avoid any silly mistakes that may cost you dearly. Curtains are mostly used for covering windows. So, measure the dimensions of your windowpanes. That should let you pick rods that go well with windows. Make sure that you pick a standard curtain rod that's somewhat wider and longer than the window's dimensions.
Choose a thick rod
A standard rod is the one that aligns with your needs on all corners. Ideally, you should check the thickness of the rod. Is the rod too thin? If yes, it'll wear out quickly. This is more so if you mount a heavy curtain on the rod. On the flip side, a very thick rod may not suit your requirements. As a general rule, go for a rod that's neither thin nor too thick. A well-balanced thickness should sustain the weight of the curtain without hampering the overall decor.
Color
Gone are the days when curtain rods were available in boring white or black colors. Today, you can find rods in a wide assortment of hues and shades. Whether you prefer light colors or dark shades, there are rods to match your preferences. So, how do you make the right choice?
According to home decor experts, a contrasting theme works well. For instance, if you prefer a dark curtain, use a light-colored standard curtain rod. On the other hand, dark color rods will work well with light-colored curtains.
Durability
You may argue that steel is a durable material. So, rods made out of steel will obviously be sturdy. Right! However, that's just not the case. Not all steel curtain rods are created equal. Some rods are better than others. Some rods are hardened, whereas others are fragile. Beware of this point when checking steel rods.
Style and decor
The look of each home varies from the other. Also, each homeowner's style and preferences are unique. As a smart individual, you'd want to blend your style, preferences, and decor in every aspect of your home. A standard curtain rod is no exception to this rule. So, list out your preferences when checking curtain rods. Do you prefer a modern style or a traditional one? Also, figure out your home's decor. In accordance with all these parameters, check rods that fit well.
Brand name
You may wonder what the brand name has to do anything with your purchase. Well, believe it or not, the brand name matters most. You'll find hundreds of suppliers of steel curtain rods. However, not all of them are trustworthy. Some vendors are waiting to rip you for top-quality rods. On the flip side, certain vendors sell duplicate rods. You'll waste your time and money by choosing any such item.
You can avoid both scenarios by concentrating on reputed brands. Curtain rods offered by reliable brands are well-made. They can stand the test of time as well as usage. Plus, their products are priced in a modest range. So, see to it that you check well-known brands when exploring a curtain rod.
Reviews
Today, many shoppers post their experience about buying various items. A quick scan of these reviews will give you a fair idea of whether the items you're exploring are worth or not. Check verified review platforms and read reviews in the right category. Find out people's opinions and feedback about brands in your checklist. Based on user complaints and ratings, narrow your search to a few highly-rated brands.
Warranty
Buying a single standard curtain rod may not involve too much money. However, your budget could pile up if you buy numerous rods for your home windows. Your preferences and money are at stake. So, how do you cover them? Your best option will be a product warranty. Look for brands that offer some kind of warranty on their products. If a particular vendor doesn't offer any warranty, remove him from your list. Better concentrate on warranted products.
Cost
No one wants to shell out too much on buying steel curtain rods. However, going after a cheaply-priced rod isn't advisable. Such a rod will wear out quickly and you'll need a quick replacement. As a thumb rule, go for a well-made rod that's priced in a modest range. You may reduce your purchase cost further through comparison shopping. Compare the quality, rates, warranty, and shipping policy of each vendor. Finally, settle with the brand that offers a highly durable rod at the most economical price.
Bottom line
Buying a standard curtain rod can be a cumbersome task. Many parameters need your attention to pick the right rod. However, you may get away with this cumbersome chore by following this handy guide. With useful tips, you're set to pick the best steel curtain rods matching your needs and budget.